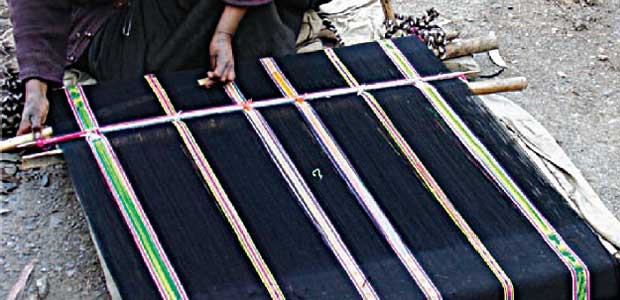 Recommendations
Height 4189 m.a.s.l..
Description
Santiago de Machaca textile art – La Paz
Textile art of Santiago de Machaca can be seen in the Museum and center of production of Textiles REDCOM: AIIi exhibited important samples of tissue from the Andean region, for example describes the process of tissue, Since the domain of fibers with the spinning wheel and the different types of torcelados, dyed and warping to the obtaining of the final product. The Center is dedicated to conducting courses and seminars on issues of production and sale of textile. The Association works in the municipalities of Catacora and Santiago de Machaca and "Arisama" communities, "Pairumani", "Parachi" and "Huaripujllo". Santiago de Machaca has camelid livestock in their main occupation and has been named as the Capital of the flame or "QARA". The skills of the people in the production of textiles are a way of influencing the universal vocation of the peoples. Its products are used in the costume of the dance more emblematic of the region as it is the "Tarqueada", based on instruments
wind.
The most representative of this area tissues are blankets, ponchos, scarves, gloves, socks, art born of spinning wheels and looms that are in your colors and figures the synthesis of the complex symbiosis of stories, the myths, the gods and peoples.
SELF-GOVERNMENT DEPARTMENT OF PEACE
MINISTRY OF ECONOMIC DEVELOPMENT AND INDUSTRIAL PROCESSING
DIRECTORATE OF CULTURE AND TOURISM
TOURISM UNIT
+Places
Province José Manuel Pando
+Info PDF
Tourism companies
Not in any sidebars Widget
---
Do you want to advertise your tourist services free of charge?
Tourist agency
Travel agency
Radio taxi service
Hotels
Tourist guides
Interdepartmental transportation – rural
other…

Not in any sidebars Widget