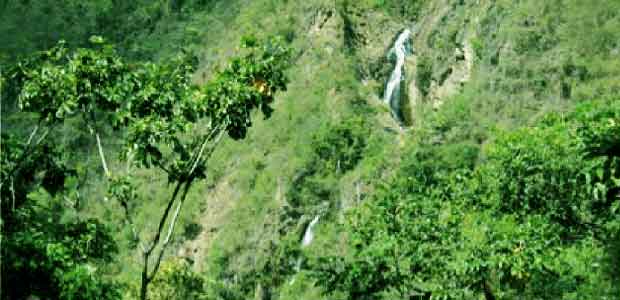 Recommendations
Thin clothing, Lightweight and comfortable. First aid kit with insect repellent, antihistamines, antipyretic and against. A vaccine against yellow fever and malaria must be received before plunging this region.
Coordinates UTM N 8248928 – E 653519
Altitude 840 m.a.s.l..
Temperature Min. 20 ° C – Max. 36 ° C
[tabby title="Description" open="yes"]
Waterfall Flor de Mayo – La Paz
The may flower waterfalls are found to 30 minutes of the population in the colony Los Andes. Access to the site is performed by minibus or taxi, approximately 10 minute ride, then continues along a path next to the river walk around of 20 minutes, up to three beautiful waterfalls, Crystal clear waters and their jumps vary between 25 to 50 meters, fish may be seen in the river Jatunkollo travel dedistintas species (Silver, bogas).
It surrounds this natural resource abundance of flora and fauna characteristic of the place; Crystal clear and pure waters, they flow into the Taipiplaya River. You have some ecological areas and excellent natural vantage points to observe the landscape of the surroundings and take photographs.
SELF-GOVERNMENT DEPARTMENT OF PEACE
MINISTRY OF ECONOMIC DEVELOPMENT AND INDUSTRIAL PROCESSING
DIRECTORATE OF CULTURE AND TOURISM
TOURISM UNIT
[tabby title="+Places"]
[do_widget id=arpw-widget-28]
[tabby title="+Info PDF"]
[gview file="http://boliviaesturismo.com/wp-content/uploads/2016/05/cascada-flor-de-mayo-ilovepdf-compressed.pdf" save="0″]
[tabby title="Tourism companies"]
[do_widget id=arpw-widget-6]
---
Do you want to advertise your tourist services free of charge?
Tourist agency
Travel agency
Radio taxi service
Hotels
Tourist guides
Interdepartmental transportation – rural
other…
[do_widget id=rednao_smart_forms_widget-2]
[tabbyending]