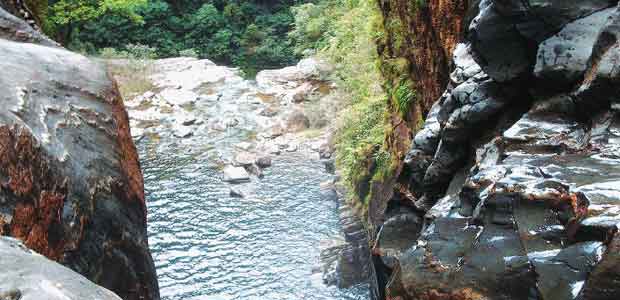 Recommendations
Light clothing and a raincoat for rainy season; First aid kit, repellent for mosquitoes and sunscreen.
Coordinates UTM N 8240033 – E 647261
Altitude 865 m.a.s.l..
Temperature Min. 20 OC – Max. 35
[tabby title="Description" open="yes"]
Waterfall Quijarro – La Paz
They consist of three waterfalls that have an approximate height from the top to the bottom of 50 meters forming a scenario of freshness and beauty that is complemented by the surroundings of leafy trees, the sounds of the mount and the brightness of the Sun on the fine sands formed during the breaks of the falls.
Its crystal-clear waters and abundant spring from the rocks, hidden in the middle of a rainforest with tangled vegetation typical of the region. The waterfalls are approximately one hour from the population of Caranavi, You can reach the place with some difficulty, following tracks in the monte, suitable for tours of adventure and nature interpretation. It is advisable to coordinate the services of guide with local villagers, those who know the place and interpret the lush natural surroundings.
SELF-GOVERNMENT DEPARTMENT OF PEACE
MINISTRY OF ECONOMIC DEVELOPMENT AND INDUSTRIAL PROCESSING
DIRECTORATE OF CULTURE AND TOURISM
TOURISM UNIT
[tabby title="+Places"]
[do_widget id=arpw-widget-28]
[tabby title="+Info PDF"]
[gview file="http://boliviaesturismo.com/wp-content/uploads/2016/05/bella-vista-caranavi-ilovepdf-compressed.pdf" save="0″]
[tabby title="Tourism companies"]
[do_widget id=arpw-widget-6]
---
Do you want to advertise your tourist services free of charge?
Tourist agency
Travel agency
Radio taxi service
Hotels
Tourist guides
Interdepartmental transportation – rural
other…
[do_widget id=rednao_smart_forms_widget-2]
[tabbyending]