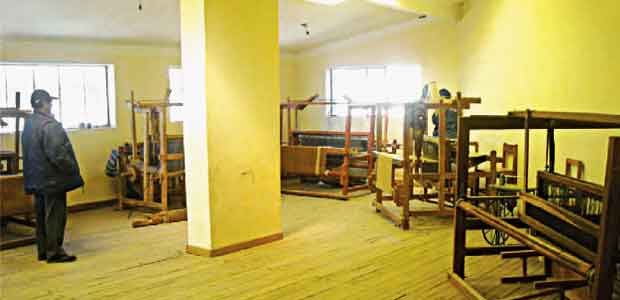 Recommendations
Height 4122 m.a.s.l..
[tabby title="Description" open="yes"]
Centro Artesanal Catacora – La Paz
The craft center of Catacora facilities are located in the community of Grande Pairumani. Its importance lies in the production of camelids fiber textiles (Alpaca and llama) that you are his main work activity and source of income. The Center is owned by an intermunicipal Association named REDCOM. The infrastructure consists of three rooms: yarn, looms and exhibition. It has seven looms: a plotting machine, a madejadora and a winding machine. The main office is in the town of Santiago de Machaca, responsible for transporting the products for sale in the city of La Paz. The Center is in Catacora. In this population villagers engaged in the collection of garments from communities of the populations of large Pairumani, Pujopacacho, Catacora, Alisama, Huaripujo, Copapujio, Exaltation, Llallagua, Laquinamayu and Larisamas. The visit must be previously coordinated in working hours, to see the production process.
SELF-GOVERNMENT DEPARTMENT OF PEACE
MINISTRY OF ECONOMIC DEVELOPMENT AND INDUSTRIAL PROCESSING
DIRECTORATE OF CULTURE AND TOURISM
TOURISM UNIT
[tabby title="+Places"]
[do_widget id = arpw-widget-29]
[tabby title="+Info PDF"]
[tabby title="Tourism companies"]
[do_widget id=arpw-widget-6]
---
Do you want to advertise your tourist services free of charge?
Tourist agency
Travel agency
Radio taxi service
Hotels
Tourist guides
Interdepartmental transportation – rural
other…
[do_widget id=rednao_smart_forms_widget-2]
[tabbyending]