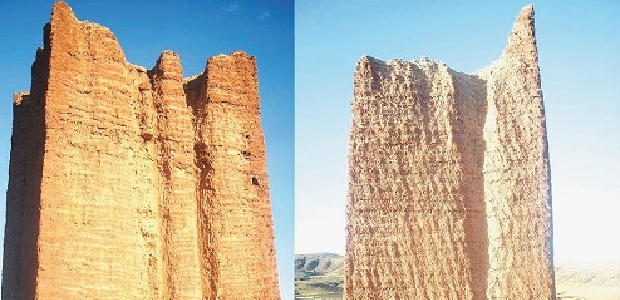 Recommendations
Bring warm clothing, comfortable shoes for walking, gloves, sunglasses, CAP and a hat, waterproof outerwear for rainy season; first aid kit, sunscreen and medicine for altitude sickness. Temperature: Min. 4 ° C – Max. 10 ° C. Height: 3964 m.a.s.l..
[tabby title="Description" open="yes"]
Tombs of the Condor Amaya – La Paz
The Condor Amaya tombs are located more of 30 kilometres from the community of Umala. The funeral towers are located near the international highway that connects the town of Patacamaya with Tambo Quemado. The site is located between the communities of Condor Amaya and Huallyani. In this area you can find a group of twenty-one funeral towers all of them built with adobe and straw and a height average of 4 meters. On a terrace of approximately 8 hectares. According to archaeological investigations these tombs belong to the cultures of the manors Aymara and inca, and can be distinguished by the yellow and red color used on the outside, the latter belonging to the Inca culture. In the colonial period, these tombs were at the mercy of the Spaniards who proceeded to his sacking by curiosity and in search of treasure. The original name of these buildings would have been "Kuntur Amaya" or dead Condor. To visit this archaeological site is you must communicate with community members to authorise and accompany the visit. Recommended season
to get to the place it is the dry season in the months of May to September.
SELF-GOVERNMENT DEPARTMENT OF PEACE
MINISTRY OF ECONOMIC DEVELOPMENT AND INDUSTRIAL PROCESSING
DIRECTORATE OF CULTURE AND TOURISM
TOURISM UNIT
[tabby title="+Places"]
[do_widget id = arpw-widget-23]
[tabby title="+Info PDF"]
[gview file="http://boliviaesturismo.com/wp-content/uploads/2016/04/chulpares-de-huayllani-ilovepdf-compressed.pdf" save="0″]
[tabby title="Tourism companies"]
[do_widget id=arpw-widget-6]
---
Do you want to advertise your tourist services free of charge?
Tourist agency
Travel agency
Radio taxi service
Hotels
Tourist guides
Interdepartmental transportation – rural
other…
[do_widget id=rednao_smart_forms_widget-2]
[tabbyending]