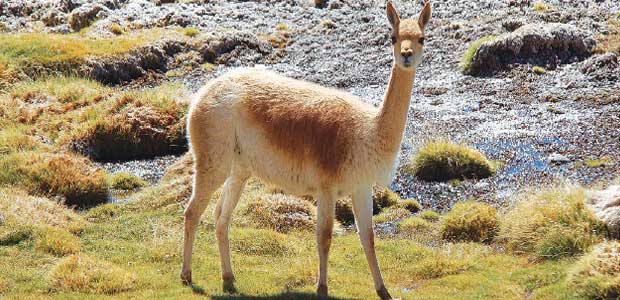 Recommendations
Height 3893 m.a.s.l..
Description
Santiago de Machaca textile art – La Paz
In the area of the Machacas, especially in the municipality of Santiago de Machaca, not only is the architectural wealth but also natural resources and among them the native fauna of the Altiplano region, mainly constituted by mammals and birds.
Among their species the greater preponderance by their number and beauty is the vicuña; It is also possible to find Cougars, foxes, Andean cats, armadillos and viscachas. Among the waterfowl are the pink parinas and ground birds such as the suris (Andean Rhea). Unfortunately both species are in danger of extinction due to indiscriminate hunting, Since some poachers come to the region interested in the collection of the eggs and feathers. The recommended time for observation is in dry weather from April to October.
SELF-GOVERNMENT DEPARTMENT OF PEACE
MINISTRY OF ECONOMIC DEVELOPMENT AND INDUSTRIAL PROCESSING
DIRECTORATE OF CULTURE AND TOURISM
TOURISM UNIT
+Places
Province José Manuel Pando
+Info PDF
Tourism companies
Not in any sidebars Widget
---
Do you want to advertise your tourist services free of charge?
Tourist agency
Travel agency
Radio taxi service
Hotels
Tourist guides
Interdepartmental transportation – rural
other…

Not in any sidebars Widget