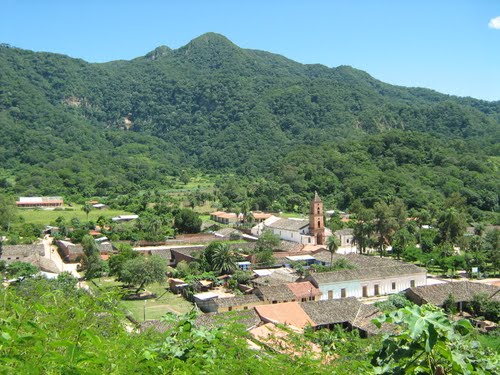 "The Che route". The line punteda shows the way of the guerrilla group led by Guevara to the place in which it was shot. Today it is a memory circuit and tourist.
Recommendations
…
Description
Lagunillas – Santa Cruz
LAGUNILLAS MUNICIPALITY
HERITAGE - CULTURAL DE SANTA CRUZ
First Municipal section of the Cordillera Province
Lagunillas, whose population is majority of Guaraní origin, dedicated to the agricultural production of maniera smallholder and livestock in little scale geared mostly for family consumption. Their forest resources I am not abundant and has deposits of limestone and gypsum. Stand out with their crafts in clay, wood, leather and fabric.
In its vicinity are the Bañados de Isoso, where the Parapetí River takes its water enriched its agricultural and livestock production.
The Cultural heritage of Santa Cruz Declaration, they make an attractive and interesting site by their stories as be the Bolivian soldiers who crossed this hot territory during the Chaco War with Paraguay the Lagunillas. Well as the battle that had to fight with the legendary figure of the "Che", and routes that this character followed by the communities of Nancahuzu, Maguana penalty and others.
The topographical features of the municipality are the last foothills of the Cordillera de los Andes, consisting of small moderately steep hills with flat regions, on which the agricultural activities. The main rivers are the Parapetí, Nan-cahuazu, Lake worth and Taparasi.
General data:
Foundation: It was founded by the priest Ramón Barba supported by farmers of the place Manuel Anzaldo and Víctor Antezana in the year 1855.
Creation: MR Legal basis: Mention in the resolution of date 17 March of 1864.
Origin of the name: It adopts the name of Lagunillas to the characteristics of its topography.
Political Division: Two cantons: Lagunillas and Aquio.
Geographic location: It is located at the foot of the mountain range of the Inca and the southwest of Santa Cruz de la Sierra.
Access roads: Road asphalted Santa Cruz - Camiri, It is linked by a secondary road which links to Lagunillas, Monteagudo and Sucre. It is the Argentina - Bolivia railway route.
Distance: *Is located at 275 km. Santa Cruz de la Sierra
Extension:
Population: 5.283 (data from INE 2001)
SOURCE: http://www.santacruz.gob.bo/
+Places
The che route – Santa Cruz
Info PDF
Tourism companies

Not in any sidebars Widget


---
Do you want to advertise your tourist services free of charge?
Tourist agency
Travel agency
Radio taxi service
Hotels
Tourist guides
Interdepartmental transportation – rural
other…
Not in any sidebars Widget