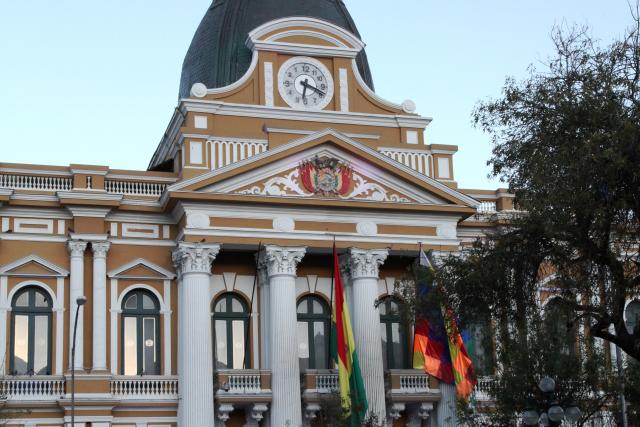 Description
New watch from the Murillo square – La Paz
La Paz, 24 June 2014(Oxygen).- All are wondering what were the reasons for the change of the watch of the facade of the Legislative Assembly for one with hands that rotate upside down. According to the Government, the recovery of the identity of the peoples of the southern hemisphere, the rising of the Sun, respect for mother earth and the physical phenomena gave rise to this decision.
"We are in the South and as we are in times of recovering our identity", the Bolivian Government is recovering our Sarawi, According to our Sarawi, that means road, in accordance with our Nan, in quechua, our watches should turn left", said Foreign Minister David Choquehuanca.
The determination of the clock change occurred at the initiative of the Foreign Minister of the State, David Choquehuanca, the President of the Chamber of Deputies, Marcelo Elío and the President of the Senate, Eugenio Rojas.
"Our North is the South. Because from the South are born ideologies, "thought patterns and there are headwinds to the North which seek to change the world of injustice in the North by a new world order that is born from the South", said Elio.
The Minister of Foreign Affairs of Bolivia, David Choquehuanca, He said that the decision that the clock hands go in the opposite direction is part of the recovery of the identity of the peoples of the southern hemisphere.
"The Sundial, It's a natural clock, If you put a pen, the sun rotates as well, turn left onto South, in the North turning the Sun on the other side", Choquehuanca said.
The President of the Senate, Eugenio Rojas, It said today that this change is not only planned for the watch of the Legislative Assembly, but other even bracelet are made.
"There are physical behaviors, facts, where imposes logic and the vision of the North to the South, the countries of the South think differently, Here we have love to mother earth, in the North is destroyed the life in the name of development, While the vision of the South focuses on love, take care and protect life", said Rojas.
Rojas said that the determination was shared with Presidents and delegations participating in the Summit G-77 plus China, the last 14 and 15 June, those who praised the idea of the resurgence of a new world originated from the South. During the diplomatic activity they gave 200 watches running under this new logic.
The clock did not charge and was developed by specialists. The new clock began to operate in this new way from the 0.00 of the 21 June, the Amazonian Andean new year celebration day.
Source: Christian Rojas – www.oxigeno.bo/node/1717
+Events
+Info PDF
Tourism companies
Not in any sidebars Widget
---
Do you want to advertise your tourist services free of charge?
Tourist agency
Travel agency
Radio taxi service
Hotels
Tourist guides
Interdepartmental transportation – rural
other…

Not in any sidebars Widget