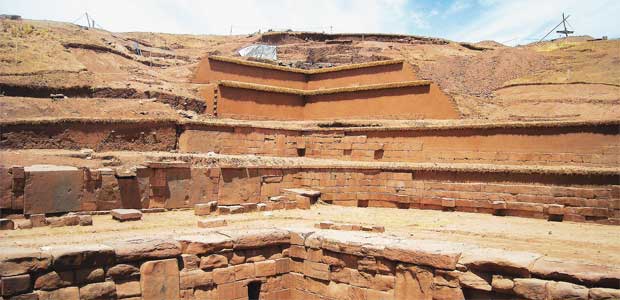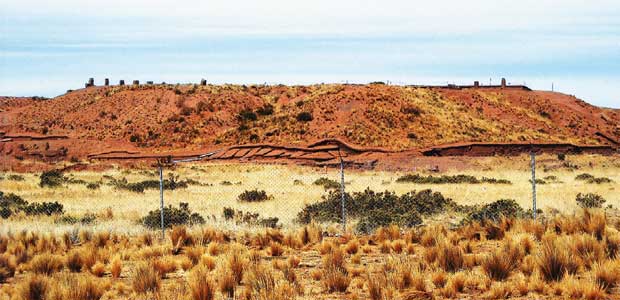 Recommendations
Bring changes of light and warm clothing; polarized glasses, hats of the wide, sunscreen (UVF. + 60) first aid kit (antispasmodic and antihistamine) e waterproof rainwear.
Coordinates UTM N 8169556 – E 584853
Altitude 3870 m.a.s.l..
Temperature Min. 6 OC – Max. 28 OC
[tabby title="Description" open="yes"]
Akapana pyramid – La Paz
The Akapana pyramid is the largest building erected by the Tiahuanacota culture and is part of the Monumental archaeological complex Tiwanaku. It has 194 meters long by 182 meters wide. It is a symmetrical pyramid of 18 meters high, oriented to the cardinal points with a small deviation in its orientation of 4 ° 30' West to North. It is built in seven overlapping fills (7 floors or levels), which are separated by walls of carved and filled by sediment selected and compacted sandstone. Possibly was a temple dedicated to the Dios Sol. It presents in its lower structures greater strength, Since platforms, the walls gradually decrease its proportions. According to some Chronicles, at the top there was a template Semisubterráneo of staggered cruciform plant that would serve as a ceremonial structure dedicated to Astral deities.
The pyramid is constituted overland tamped and reinforced in its perimeter by massive stones in sandstone and blocks of the same material.
There is a noticeable difference constructive in its walls, which indicates that probably was a work of several generations, with different construction techniques, We find an example of this in the first level, It is lined with padded stone and the following levels with perfect cut rectangular blocks. Its main entrance is located to the West, formed by staircases and on their sides pedestals would be found with pieces carved in basalt black with the image of the "Chachapuma" that would represent the "Cougar man". All of them are in the Regional Archaeological Museum of Tiwanaku.
SELF-GOVERNMENT DEPARTMENT OF PEACE
MINISTRY OF ECONOMIC DEVELOPMENT AND INDUSTRIAL PROCESSING
DIRECTORATE OF CULTURE AND TOURISM
TOURISM UNIT
[tabby title="+Places"]
[do_widget id = arpw-widget-33]
[tabby title="Info PDF"]
[gview file="http://boliviaesturismo.com/wp-content/uploads/2016/05/ingavi-ilovepdf-compressed.pdf" save="0″]
[tabby title="Tourism companies"]
[do_widget id=arpw-widget-6]
[do_widget id = arpw-widget-39]
---
Do you want to advertise your tourist services free of charge?
Tourist agency
Travel agency
Radio taxi service
Hotels
Tourist guides
Interdepartmental transportation – rural
other…
[tabbyending]