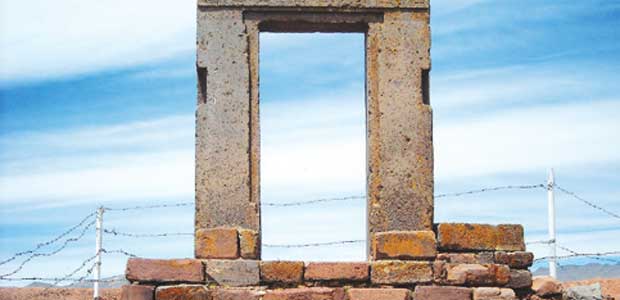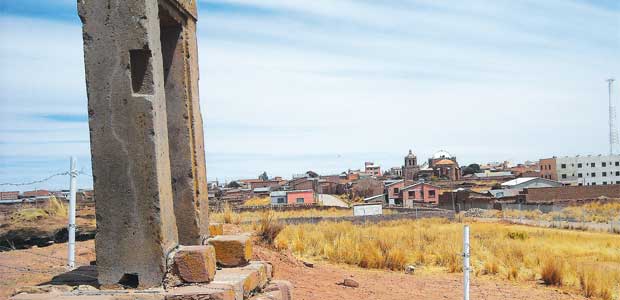 Recommendations
Bring changes of light and warm clothing; polarized glasses, hats of the wide, sunscreen (UVF. + 60) first aid kit (antispasmodic and antihistamine) e waterproof rainwear.
Coordinates UTM N 8169556 – E 584853
Altitude 3870 m.a.s.l..
Temperature Min. 6 OC – Max. 28 OC
Description
The moon gate – La Paz
The door of the Moon form part of the complex archaeological Monumental of Tiwanaku located on an elevation of land near Putuni. It has a height of 2.23 meters and a thickness of 26 cm. Is characterized by being a bow carved in an only block of stone andesite, has a frieze with decoration sculpted in high and low relief. It presents various Zoomorphic motifs similar to the last decorative band of the Puerta del Sol, with the Variant that carry heads of puma mouth of fish and not heads of poultry, which shows the different functions and meanings of each one of them in the symbolism of the Andean world.
Referred to the Puerta del Sol and the Puerta de la Luna probably formed part of the Andean cosmovision due to architectural design features, the location, the material of base and the symbology; forming the concept very own of the culture tihuanacota of the unity in the diversity. In the mid-19TH century, When still did not know fully the importance of the archaeological site, only circulated legends and beliefs of the elders, on the existence of a great metropolis to banks of the Lake Titicaca. Them evidence indicate also that the door of the Moon was placed to the income of the cemetery and that later was led to its current location in the complex archaeological.
SELF-GOVERNMENT DEPARTMENT OF PEACE
MINISTRY OF ECONOMIC DEVELOPMENT AND INDUSTRIAL PROCESSING
DIRECTORATE OF CULTURE AND TOURISM
TOURISM UNIT
+Places
Info PDF
Tourism companies

Not in any sidebars Widget


---
Do you want to advertise your tourist services free of charge?
Tourist agency
Travel agency
Radio taxi service
Hotels
Tourist guides
Interdepartmental transportation – rural
other…