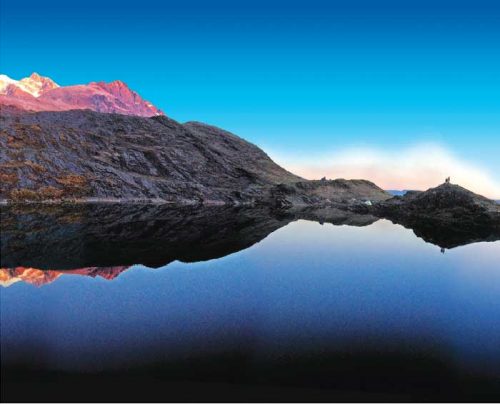 Recommendations
Warm clothing for weather conditions with wind, comfortable shoes, Hat and sunglasses, rainwear for rainy season, first aid kit with sunscreen and medicine for altitude sickness.
Tourist activities
Sports tourism, nature interpretation, mountain climbing, taking pictures.
Description
Route Sorata – Lacatia – Lagoon Chillata lagoon glacier
The route of Sorata, Lacatia, Lake Chillata and Lake glacier is one of the most representative samples of technology, the design and engineering of transportation who developed the Andean civilization in the construction of roads. The route crosses diverse and complex ecological floors where, they say studies, they built spaces for the gods and where sacred or also called "huacas" enclosures were located.
It is without doubt one of the favorite routes for visitors, where can you see also the natural and scenic richness of various ecosystems dominated by the presence of the Illampu massif, the imposing Jankho Uma, the Valley of Sorata, the San Cristobal River, glaciers and mountains. The route begins in the village of Sorata, then you reach the community of Lakatia, It is at the foot of Nevado Illampu being the highest mountain of the cordillera. Later we reach the Laguna Chillata, that is to 4.200 m.a.s.l.. site where you can camp. 17, 5kilometros is the Glacial lagoon, along the route you can see a wide variety of flora and fauna.
The visit to this spectacular route safer can perform it during the months of May to September.
SELF-GOVERNMENT DEPARTMENT OF PEACE
MINISTRY OF ECONOMIC DEVELOPMENT AND INDUSTRIAL PROCESSING
DIRECTORATE OF CULTURE AND TOURISM
TOURISM UNIT
+Places
+Info PDF
Tourism companies
Not in any sidebars Widget
---
Not in any sidebars Widget