Recommendations
Bring warm clothing, comfortable shoes for walking, lenses and Sun Hat, sunscreen
Regardless of the faith, the top of the Hill offers spectacular views of Lake Titicaca, the Bay and surrounding areas of Copacabana.
Altitude 3841 masl
[tabby title="Description" open="yes"]
Archaeological sites – La Paz
Inti Watana (The Inca jib)
Walking towards the South of the town of Copacabana, on the Kesanani Hill, is a megalithic monument is known as the "Hanging of the Inca" which was used as an astronomical observatory and ceremonies at the solstices and equinoxes. The Spanish conquerors put the name of jib of the Inca, those who mistook the Observatory with a fork.
Kusijata
The community of Kusijata is located at 45 minutes from the town of Copacabana , There the call is "Garden of the Inca" and a kind of stone called tub "Bath of the Inca". Is also the "Regional Archaeological Museum", which has objects of the Chiripa cultures, Tihuanaco and Inca, among them of highlighting a mummy or Chullpa.
Intiqala
Is located at 15 minutes from the center of the city of Copacabana, very close to the local cemetery. It is a ceremonial center consisting of a rectangular platform and rocks carved in the form of seats.
Lock ' to
Lock' is a community that is located to the South of Copacabana, where the inhabitants maintain traditional forms of preparation of Pasankalla, a food made with a special corn. At the foot of the Hill "Lakha Kollu", There are a variety of lithic stone, as the so-called "Polleritani".
Kopacati
Kopacati, is located at 5 km to the South of the city of Copacabana, road to Kazani – Yunguyo. There is a set of archaeological remains as "Seven mirrors" and paintings as "The thousand lights", a stone with figures representing these Andean animals. Another cave painting found is called "Inca Banderani", It was named for its resemblance to the Wiphala, the Indian flag.
The island of the Sun and the Moon island have important archaeological sites, most of the Inca period. The most important are:
ISLA DEL SOL
PilcocainaPalacio Pilkokaina
This stone building was a resting place for pilgrims. Is located at 30 minute walk south of Yumani.
Labyrinth the ChincanaLa Chincana
It is a semi-subterranean maze of stone where they kept food in the Inca period, located to 45 minutes walk from Challapampa.
Table sacred island of the SolMesa of ceremonies
Close to the rock's origins is this stone altar, where even in our time, Andean rituals are held.
ISLA DE LA LUNA (COATI)
Palace of the virgins "Iñak Uyu"
It was a place where the chosen women (Virgin) they learned several trades as being woven and art, so that they could be chosen as concubines of the Inca..
Source: www.visitacopacabana.com
[tabby title="Map"]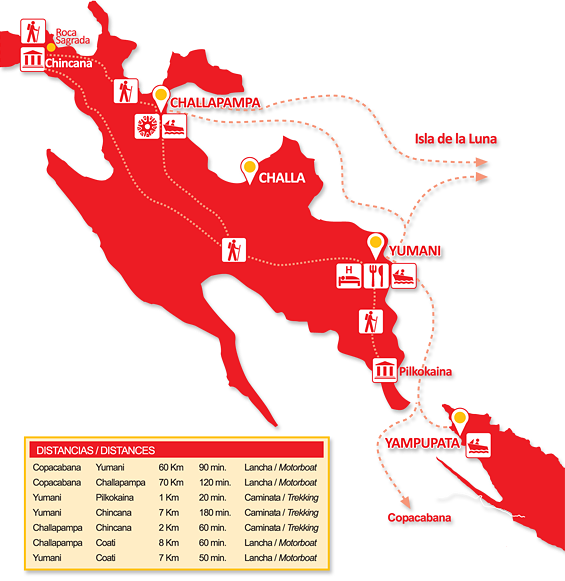 [tabby title="+Places"]
[do_widget id = arpw-widget-16]
[tabby title="+Info PDF"]
…
[tabby title="Tourism companies"]
[do_widget id=arpw-widget-20]
[do_widget id = arpw-widget-17]
---
Do you want to advertise your tourist services free of charge?
Tourist agency
Travel agency
Radio taxi service
Hotels
Tourist guides
Interdepartmental transportation – rural
other…
[tabbyending]