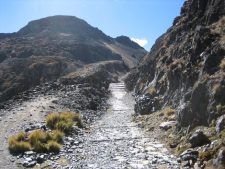 Recommendations
Our itineraries are designed to obtain an acclimatization progressive. The majority of our itineraries, require only a good condition physical and capacity of adaptation. For convenience in movements, is advisable to 'travel light' and not take but you really need, in the most compact way.
Description
Takesi – La Paz

The Takesi is the ideal way to start a slow and progressive discovery both history and the ecological wealth existing in Bolivia.

This is another way of them Inca and formed part of a network road towards them valleys of the current Department of the peace, called Yungas.

It is a beautiful journey in which we will see the most diverse landscapes. This extensive network road facilitated the exchange of products tropical with products of the altiplano, where is settled the great cultures local.

Along the charming trails, you will discover numerous ruins Incas and other cultures, surrounded by vegetable exuberance that makes us weigh in El Dorado.

The road is located between the provinces Murillo (Ventilla) and Sud Yungas (Mina Chojlla), traveling a distance approximate from 50 km. The former route of the Takesi was much longer, But today many sections will have lost by the little conservation or have been taken away by the jungle.
+Places
+Info PDF
Tourism companies
Not in any sidebars Widget
---
Not in any sidebars Widget