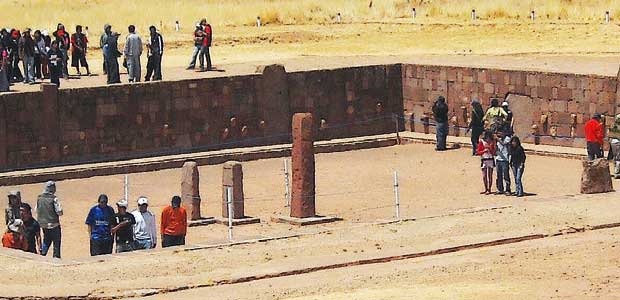 Recommendations
Bring changes of light and warm clothing; polarized glasses, hats of the wide, sunscreen (UVF. + 60) first aid kit (antispasmodic and antihistamine) e waterproof rainwear.
Coordinates UTM N 8169556 – E 584853
Altitude 3870 m.a.s.l..
Temperature Min. 6 OC – Max. 28 OC
[tabby title="Description" open="yes"]
Templete Semi underground – La Paz
The Semisubterráneo shrine is located east of the kalasasaya Temple, It is one of the monuments of the first order of the Monumental archaeological complex Tiwanaku, It is known as the "Temple of a thousand faces". It is below the level of the ground of surrounding area, whose courtyard corresponds to the period of splendor of the Tiahuanaco culture. Its walls have an average height of 2 meters, the access of 7 colorado sandstone treads is to the South; its base is of 26 meters on the North and South walls, 28.47 meters on your wall this and 28.46 meters in the West. The walls are formed by 57 pillars and monolithic blocks of red sandstone, where they are located 175 Heads, anthropomorphic and Zoomorphic different from each other, worked mostly in limestone; which would correspond to a sample of the ethnic groups of the era, trophies from defeated enemies or a gallery of portraits of notables of Tiahuanaco. Also stands out the drainage system in current operation made through channels of stone with a perfect slope of the 2% and that leads to a drain. The architectural style was used by other cultures earlier Pukara in Puno and Chiripa in Bolivia, Peru. The French mission de Créqui - Montford, was he discovered the Temple in 1903. In 1933 the American researcher Wendell Bennett excavated two stone sculptures: the bearded monolith or Kontiki and the Pachamama, known as Bennett. During the Decade of 1970 the temple was completely excavated and restored by the Bolivian researcher Carlos Ponce Sanjinés. In the center of the temple is the bearded monolith or Kontici Wiraqocha (Lord of the waters, with beard and dressed in a long skirt), sculpted in sandstone rock accompanied by two smaller steles.
SELF-GOVERNMENT DEPARTMENT OF PEACE
MINISTRY OF ECONOMIC DEVELOPMENT AND INDUSTRIAL PROCESSING
DIRECTORATE OF CULTURE AND TOURISM
TOURISM UNIT
[tabby title="+Places"]
[do_widget id = arpw-widget-33]
[tabby title="Info PDF"]
[gview file="http://boliviaesturismo.com/wp-content/uploads/2016/05/ingavi-ilovepdf-compressed.pdf" save="0″]
[tabby title="Tourism companies"]
[do_widget id=arpw-widget-6]
[do_widget id = arpw-widget-39]
---
Do you want to advertise your tourist services free of charge?
Tourist agency
Travel agency
Radio taxi service
Hotels
Tourist guides
Interdepartmental transportation – rural
other…
[tabbyending]