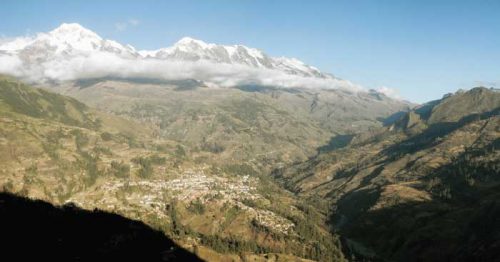 Recommendations
Clothing suitable for high mountain, specialized equipment for climbing in rock and snow, shoes for trekking and for cold weather conditions; first aid kit.
Tourist activities
Adventure tourism, natural or eco-tourism, experiential, community and recreational.
Description
Valley of Sorata – La Paz
The Valley of Sorata, surrounded by snow capped mountains and rainforests of the Yungas, is located at 2.700 m.a.s.l., has a pleasant temperate climate. Years ago it was founded as a mining boom Mall by the intense activity of the gold mining in Tipuani and Mapiri. Its architecture retains even the air of wealth who lived in the recent time, stands for the production of textile art and its natural attractions. Each of its communities perform holiday events, whether for civic reasons or religious devotion. The feast of greater importance in the municipality is that of the Patron Saint, the Lord of the column. Also there is an aymara Festival in the municipality, in making a ritual called k'achada, which means "Serving table a la Pachamama". In this celebration offerings are made to mother earth to improve the productivity of the agricultural year.
Stands out historically because was the scene of the first phase of the Túpac Amaru rebellion in 1780 and 1781. The uprising was led by chieftains indigenous being largest that coincided with an intense attack on the patrimonial system of Government. This character was addressed to farmers trying to establish an indigenous awareness, by summoning them to cooperate against the Conqueror, promising them to occupy Government positions. Was in early May of that year that the rebellion began in the valleys of Larecaja, giving rise to the so-called siege of Sorata. In August the oral betrayal of the Aymara rush end and Chinchaya Indians captured Túpac Katari into Reseguin. After being tortured and ridiculizado died quartered in the plaza of the town of Peñas, a 13 November of 1781. This charming Valley can be visited throughout the year but preferably between the months of May to September.
SELF-GOVERNMENT DEPARTMENT OF PEACE
MINISTRY OF ECONOMIC DEVELOPMENT AND INDUSTRIAL PROCESSING
DIRECTORATE OF CULTURE AND TOURISM
TOURISM UNIT
+Places
+Info PDF
Tourism companies
Not in any sidebars Widget
---
Not in any sidebars Widget