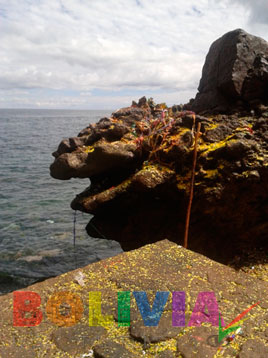 The mouth of the frog
The legend of the toad mouth tells us that: "the frog emerged from the sacred Lake Titicaca, in the nights, up until dawn, but a gray day not realized that he had already dawned and Tata Inti rays began to leave, astounded Toad he wanted to return to the Lake, but the rays of the Sun in sign of punishment for his boldness, were immobilized in its natural form; transforming it into stone, looking carefully into the sacred Lake. From this moment, the peninsula of Copacabana, possesses good luck."
The toad is considered for many, a symbol of good luck, If this appears in times of rain, is because it will bring good omens, wealth and prosperity. To receive all this luck, as a good habit pays tribute to the toad with incense and ch'alla, accompanied by a good wine, Champagne or beer.
Bethlehem Condarco
Student of tourism UMSA
[tabby title="+PLACES" open="yes"]
[do_widget id = arpw-widget-16]
[tabby title="OUTSTANDING COMPANIES"]
[do_widget id=arpw-widget-20]
[tabby title="TOURISM COPACABANA"]
[do_widget id = arpw-widget-17]
[tabbyending]