[sphere 327]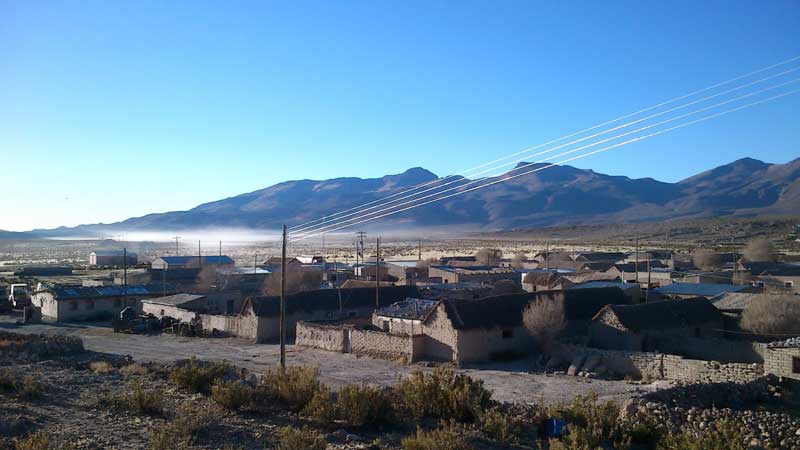 Recommendations
Knowing the entire environment is an unforgettable activity since it has unique landscapes, However found at high altitudes between 3600 up to 5000 height Mt, away from cities , with limited services and difficult paths, It is necessary to consider the following recommendations.
The kind of places they should take the following:
– Sunscreen
– Small cut tickets
– Sleeping bag
– Personal first aid kit
– Sunglasses
– Trouses long
– T-shirts long sleeves
– Warm clothes
– Gloves
– Flashlight
– Cream for lips
– Cream for hands and face
– Wool Hat
– Torque Cap Sun
– Scarf
– Hiking boots
Note.- Take care of your backpacks and always attentive to anything.
Altitude 4000 – 5000 masl
Temperature Min. -10 C – Max. 20 C
[tabby title="Description" open="yes"]
Aguaquiza – Potosi
This community is located north of the island Lli ' phi, in the province Nor Liez, South of the salar, There are important tourist attractions in this community, such as:
GROTTO OF THE GALAXY
It is an underwater cavern currently closely and formed in the run-up to the glaciations, corresponding to volcanic eruptions on the waters of Lake Minchin (Today salt). It presents a very different from the terrestrial routes conformation, because instead of the usual stalactites and stalagmites is projected from the ceiling, calcareous bodies with shapes of solidification of magma in contact with water. Is located at 7 kilometers from the town of Aguaquiza road to the community of San Pedro de Quemes.
THE DEVIL'S CAVE
On the same hill from the grotto of the Galaxy, a few meters from this cave, You can visit the cave of the devil having pre-Columbian constructions inside. You can also explore the surroundings of these two caves along the path that will take you to the viewpoint from which can enjoy the beauty of the Salar de Uyuni and the surrounding mountains.
ARCHAEOLOGICAL PIECES
There is a collection of stone objects that are tools to till the land and for the benefit of the Royal quinoa, weapons of war, as also some clothing and ceramics.
[tabby title="+Places"]
[do_widget id = arpw-widget-12]
[tabby title="+Info PDF"]
[tabby title="Tourism companies"]
[do_widget id=arpw-widget-6]
[do_widget id = arpw-widget-13]
---
[do_widget id=rednao_smart_forms_widget-2]
[tabbyending]