[sphere 327]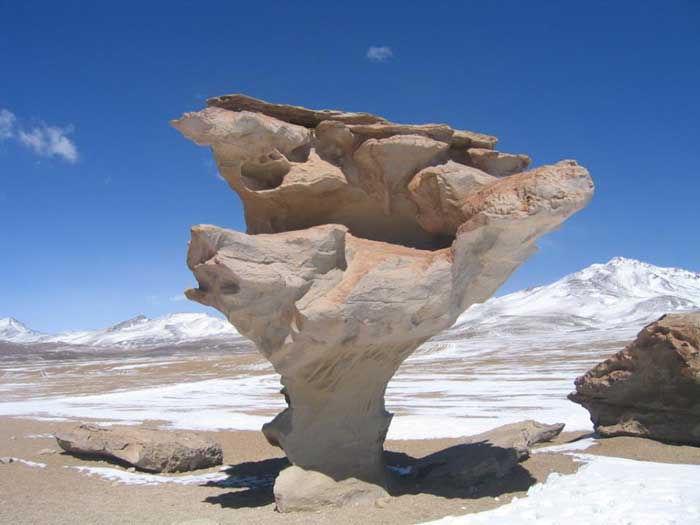 Recommendations
Knowing the entire environment is an unforgettable activity since it has unique landscapes, However found at high altitudes between 3600 up to 5000 height Mt, away from cities , with limited services and difficult paths, It is necessary to consider the following recommendations.
The kind of places they should take the following:
– Sunscreen
– Small cut tickets
– Sleeping bag
– Personal first aid kit
– Sunglasses
– Trouses long
– T-shirts long sleeves
– Warm clothes
– Gloves
– Flashlight
– Cream for lips
– Cream for hands and face
– Wool Hat
– Torque Cap Sun
– Scarf
– Hiking boots
Note.- Take care of your backpacks and always attentive to anything.
Altitude 4000 – 5000 masl
Temperature Min. -10 C – Max. 20 C
[tabby title="Description" open="yes"]
Stone tree – Potosi
The stone tree which was declared a natural monument, It is a geomorphological formation of type mushroom Rocky due to the wind that stands out from a set of volcanic rocks of different shapes located in a sandy area, desert Siloli, to the entry of the Eduardo Avaroa Andean Fauna national reserve to the southwest of Bolivia, located in the Department of Potosi, Bolivia. It has a height of 5 meters and its particular appearance is the element that gives tourist attractions. It is visited at any time of the day, the dwell time is a maximum of half an hour, time that is used to taking some pictures, only scheduled activity.
[tabby title="+Places"]
[do_widget id = arpw-widget-12]
[tabby title="+Info PDF"]
[tabby title="Tourism companies"]
[do_widget id=arpw-widget-6]
[do_widget id = arpw-widget-13]
---
[tabbyending]
[do_widget id = rednao_smart_forms_widget-4]