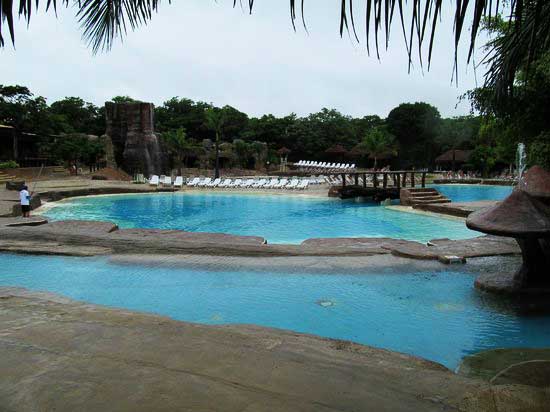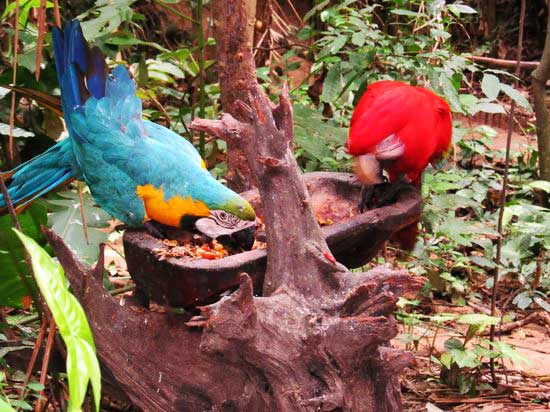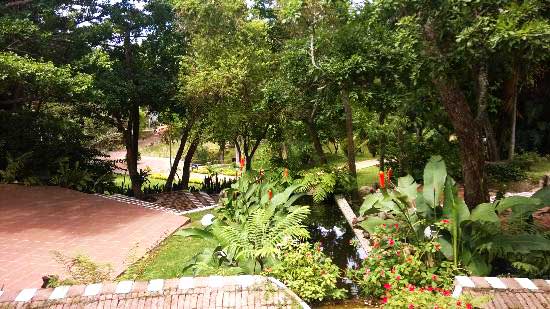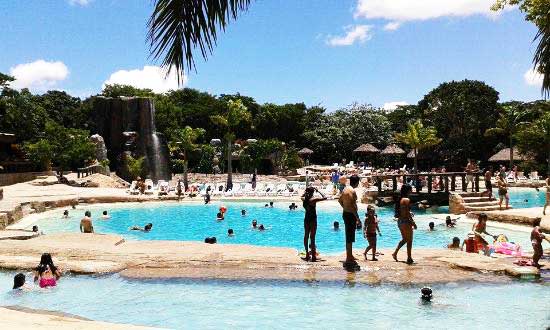 Recommendations
Altitude 416 masl
Temperature Min. 25 C – Max. 32 C
[tabby title="Description" open="yes"]
Biocentro Güembé – Santa Cruz
Biocenter Guembe consists of 24 hectares, surrounded by exotic plants, lush forests and animals native to the region. A place where you will find a beautiful range of flora and fauna, natural areas, ecological trails, lagoons, pools and recreation for all ages. We also offer a comfortable resort with cabins and rooms of luxury with rustic touch and for the more adventurous, camping areas, 3 lagoons, 15 swimming pools and various alternative therapies.
This project aims to implement the already proposed and approved "Integral Education Plan environmental", employing students and young people from disadvantaged social position or an environment,for this reason it is the Department's laboratory and with the collaboration of the Department of commercial, is proposed to the administration of the Guembe Biocenter "Guembe solidarity project – Thinking on Earth. The development of this program would demonstrate that we are not only a Resort to high social class, If not "preach by example", I really want to build, from our privileged position, a society and a better world.
Biocentro Güembé is open 7 days a week, the 365 days of the year (including holidays).
Park schedule: 08:30 – 18:00
Restaurant: 08:30 – 22:00
Buffet (weekends and holidays): 12:30 – 15:00
Room Service: 08:30 – 22:00
Location: Km. 5 road to Porongo, area Urubo – Santa Cruz, Bolivia.
Guided tour by biological Areas: Evoluseum – Terrariums – Meliponary – Marsh – Nature trails – Laboratory – Turtle – Aviary – Butterfly Garden – Orchid Garden – Apiary – Monkey Island – Mirador organic garden.
Recreational areas: Swimming pools – Miniclub – Lagoons – Sports areas – Riding floats
Use of Spa:
15 "Natural" pools – 3 Lagoons – Kayaks
Use of sports facilities:
Beach volley – Football 5 – Ecological trails – Gym
Gastronomic services:
Restaurant ' Las Palmas' Le offers:
– American breakfast
– Lunch à la carte
– Siesta Café
– Baked typical (Cuñape, masaco and sonso; starting from the 15:30)
– Dinner à la carte.
Buffet's:
– Salads
– Vegetarian food
– Typical food
– International food
– Grilled meats
– Desserts
[tabby title="+Places"]
[do_widget id = arpw-widget-37]
[tabby title="+Info PDF"]
…
[tabby title="Tourism companies"]
[do_widget id=arpw-widget-6]
---
Do you want to advertise your tourist services free of charge?
Tourist agency
Travel agency
Radio taxi service
Hotels
Tourist guides
Interdepartmental transportation – rural
other…
[tabbyending]
[do_widget id = rednao_smart_forms_widget-4]