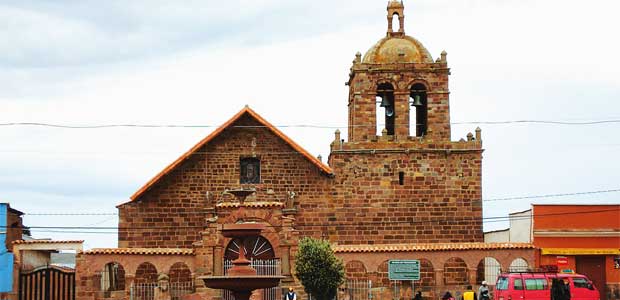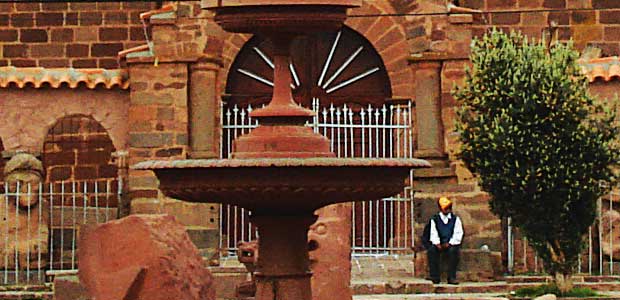 Recommendations
Bring changes of light and warm clothing; polarized glasses, hats of the wide, sunscreen (UVF. + 60) first aid kit (antispasmodic and antihistamine) e waterproof rainwear.
Coordinates UTM N 8169556 – E 584853
Altitude 3870 m.a.s.l..
Temperature Min. 6 OC – Max. 28 OC
[tabby title="Description" open="yes"]
Church of San Pedro de Tiahuanaco – La Paz
The Church of Tiahuanaco is located in the Centre of the town of the same name. Construction began the year 1.580 and concluded at 1612 declared a national monument the 31 in January of 1945. It is one of the most important churches of the region by the unique characteristics of its architecture, It is a testament to the process of the ideological religious syncretism of the Andean cosmovision and the Catholic religion. This built with hewn stone blocks that come from the Monumental archaeological complex Tiwanaku distant to 2 the main square kilometers. Account with 28 drains (gargoyles) which denote their indigenous affinity to use as the Titi or Andean cat. The interior of the temple shows a retable of 17TH-century carved by indigenous wood.
Adjacent to the main gate, serving as income to the Church, You can see the figures of two mid-rise monoliths carved in stone that act as guardians of the Church and that adorn its facade, which were found in the Pokotia region at the foot of the Hill Quimsachata (approximately 10 kilometers to the South of Tiahuanaco). At the head of one of the steles can be seen the face of snake with mouth of fish. This same figure is stuck in the chest of Inti – Wiracocha of the Puerta del Sol. In the Church not only the saints of the Catholic faith can be found, the Andean gods are also present, What explains the religious syncretism.
SELF-GOVERNMENT DEPARTMENT OF PEACE
MINISTRY OF ECONOMIC DEVELOPMENT AND INDUSTRIAL PROCESSING
DIRECTORATE OF CULTURE AND TOURISM
TOURISM UNIT
[tabby title="+Places"]
[do_widget id = arpw-widget-33]
[tabby title="Info PDF"]

[tabby title="Tourism companies"]
[do_widget id=arpw-widget-6]
[do_widget id = arpw-widget-39]
---
Do you want to advertise your tourist services free of charge?
Tourist agency
Travel agency
Radio taxi service
Hotels
Tourist guides
Interdepartmental transportation – rural
other…
[tabbyending]