[sphere 327]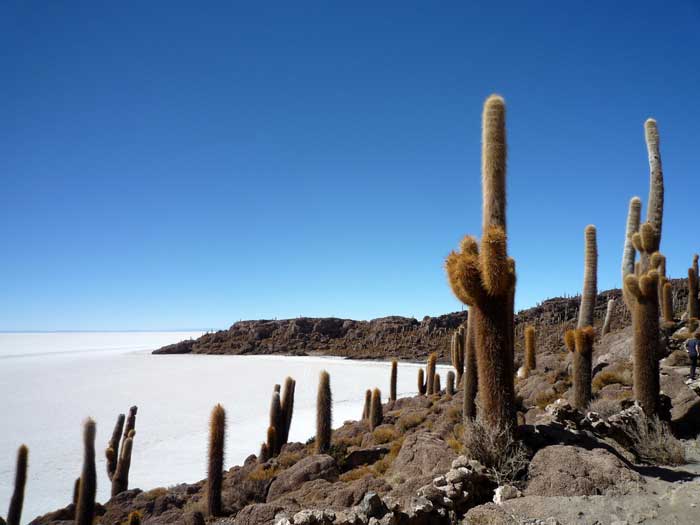 Recommendations
Knowing the entire environment is an unforgettable activity since it has unique landscapes, However found at high altitudes between 3600 up to 5000 height Mt, away from cities , with limited services and difficult paths, It is necessary to consider the following recommendations.
The kind of places they should take the following:
– Sunscreen
– Small cut tickets
– Sleeping bag
– Personal first aid kit
– Sunglasses
– Trouses long
– T-shirts long sleeves
– Warm clothes
– Gloves
– Flashlight
– Cream for lips
– Cream for hands and face
– Wool Hat
– Torque Cap Sun
– Scarf
– Hiking boots
Note.- Take care of your backpacks and always attentive to anything.
Altitude 4000 – 5000 masl
Temperature Min. -10 C – Max. 20 C
[tabby title="Description" open="yes"]
Incahuasi island – Potosi
The Incahuasi island, in quechua means «the casa del Inca», It is a Bolivian island located in the central part of the Salar de Uyuni, Department of Potosi.
Surrounded completely by the immense salt Salar de Uyuni, its relief is steep. In it you will find lots of giant cactus (Echinopsis atacamensis) that you can measure more than 10 meters high.
It is one of the main tourist sites of Bolivia, Thanks to the attraction that represents the salar de Uyuni, also known in the region as salar de Tunupa, and that it is the biggest desert of salt of the world. Operates a reception centre on the island tourists belonging to the Commonwealth of munipios of Llica and Tahua, the island is located in the territory. This Centre is charged an entrance to visitors to access a well signposted and easily practicable path that runs through the island and allows you to enjoy the views over the Salt Lake, the cobalt blue sky and hundreds of cacti.
The reception centre does not offer the possibility to stay overnight on the island. There is a restaurant with meals and drinks of the Andes, Although most tourists prefer lunch over the salar, a few hundred metres from the island, or by using the tables made with salt tables that are on the edge of the island, with the menu including the tourist agencies. Travel to the island are organized from the town of Uyuni, located on land some 100 km East.
Frequently the Incahuasi Island mistakenly receives the name of the neighbouring island of fish, that is to 22 kilometers to the Northwest. Incahuasi coordinates 20 ° 14 ' 34" South latitude and 67 ° 37 ' 31" West longitude, While the island's fish are 20 ° 08 ' 35" South latitude and 67 ° 48 ' 27" West longitude.
[tabby title="+Places"]
[do_widget id = arpw-widget-12]
[tabby title="+Info PDF"]
[tabby title="Tourism companies"]
[do_widget id=arpw-widget-6]
[do_widget id = arpw-widget-13]
---
[tabbyending]
[do_widget id = rednao_smart_forms_widget-4]