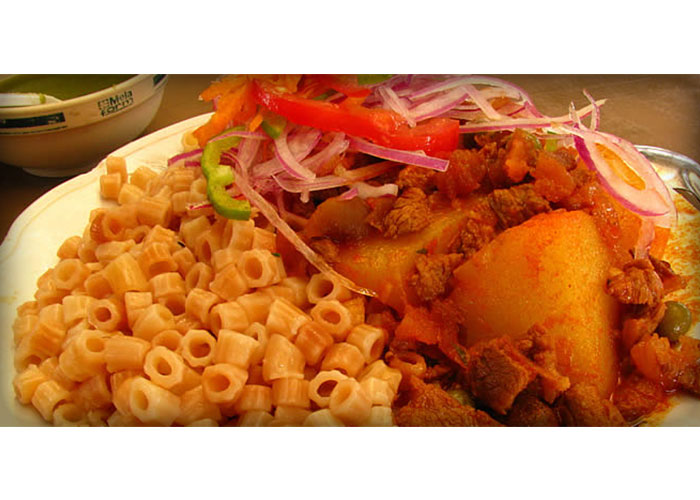 Recommendations
…
[tabby title="Description" open="yes"]
Saice chapaco – Tarija
It is the most representative of Tarija's culinary dish. Made with minced meat, Potato, pea, Onion, spices and chili colorado. This preparation accompanied with rice and sarsa (tomato and onion salad).
The saice is a typical dish of the region of Tarija (Bolivia), which is a delight as it denotes the flavor chapaco which is characterized, the people of this land.
This dish, even being one of the most representative of Tarija, It has undergone various changes over time, adding ingredients that are not typical of the region, dish, Neither of the traditional recipe, as it dramatically alter that unique flavor, When it is well prepared.
It should be to clarify and emphasize that chuño is not an own or traditional ingredient of the saice, chuño is originating in the Andean region of Bolivia, that it did not have any influence in the creation of this dish. Since it is a purely native to the region of the central valley of Tarija dish, where they come from recipes and most ancient historical records of this, and where the preparation of the saice is more rooted in the local population, which their ancestry indicates that chuño should not be included in the recipe, It is not typical of this. The recipe being a legacy of their parents and grandparents, learned in the traditional and proper way.
[tabby title="+Typical dishes"]
[do_widget id=arpw-widget-7]
[tabby title="Recommended restaurants"]
[do_widget id=arpw-widget-6]
---
Do you want to advertise your tourist services free of charge?
Tourist agency
Travel agency
Radio taxi service
Hotels
Tourist guides
Interdepartmental transportation – rural
other…
[tabbyending]
[do_widget id = rednao_smart_forms_widget-4]