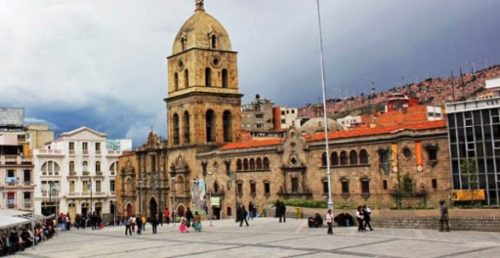 Recommendations
Altitude 3650 masl
Temperature Min. 5 C – Max. 23 C
Address: Plaza San Francisco not. 503
Visit: Monday to Saturday from 09:00 to 18:00
Phone: (591-2) 2318472
…
[tabby title="Description" open="yes"]
Centro Cultural San Francisco Museum – La Paz
The history of the Franciscan order in Bolivia is interwoven with the history of the country. From the 16th century to the present day, many events have been recorded on the walls of this monastery.
Visiting the cloisters, the cells, Garden, The Orchard, the crypt, and admiring the mestizo Baroque architecture of the basilica and the pictures, visitors can breathe art and history dating back to the past for nearly five centuries. Mestizo Baroque architecture, religious and colonial art pieces.
[tabby title="+Places"]
[ajax_load_more post_type="post" category="la-paz" tag ="Museum" transition="fade" images_loaded="true" css_classes="images-loaded" orderby="title" order="ASC" max_pages="0″]
[tabby title="Info PDF"]
…
[tabby title="Tourism companies"]
[do_widget id=arpw-widget-6]
---
Do you want to advertise your tourist services free of charge?
Tourist agency
Travel agency
Radio taxi service
Hotels
Tourist guides
Interdepartmental transportation – rural
other…
[tabbyending]
[do_widget id = rednao_smart_forms_widget-4]